Regular Visits
After the investment of time needed on the first and second visits, many patients become concerned that every visit will be of equal length.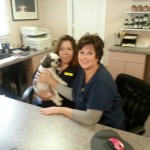 You will sign in, and the total visit time will vary depending upon the individualized treatment protocol.
Dr. Chang always checks your entire spine each visit, and will adjust any vertebrae that are subluxated. He adjusts both in the traditional manual way and with the low force instrument, depending on the patient. You may also be a candidate for physical therapy modalities if you have a sprain/strain, such as electric muscle stimulation, heat/ice, or ultrasound.
On your way out, Pegge will collect your copay, and reschedule your next visit. If the doctor has recommended multiple visits, you have the option of scheduling these ahead, and you also can pay your copay once a week to save time.
Call us today at 609-748-8779 to get started on the road to better health!
---
Coastal Chiropractic & Acupuncture  Call 609-748-8779